Your business has been preparing for weeks. The time has come for the event. You're expecting an audience. All your missing is a killer sound setup to hit the audience hard in the best way possible—and for that, you've come to the right place.
Beamworks' selection of live sound rentals has all the equipment to make your music shine. From speakers, subwoofers, mixers, monitors, and microphones, it's all here at Beamworks. Before choosing live audio gear, there are a few things to consider, including the style of music you perform and the size of the venue you're playing in. Your best bet is to create a checklist so that nothing is left behind; One of Beamworks's certified technicians will be more than happy to offer advice. Rest assured, our live rental packages are cost-friendly and have everything you need. Essential pieces for bands are monitors, a mixer, a quality PA system, mics, stands, and additional cables. As for DJs, Beamworks has your rental needs covered as well.  Audio gear like mixers, controllers, interfaces, and microphones are on the next page, and our staff boasts the knowledge and experience to point you in the right direction. For those of you who want to be felt as well as heard, Consider Beamwork's impressive line of subwoofer rentals—ideal for wedding receptions and EDM-themed house gigs.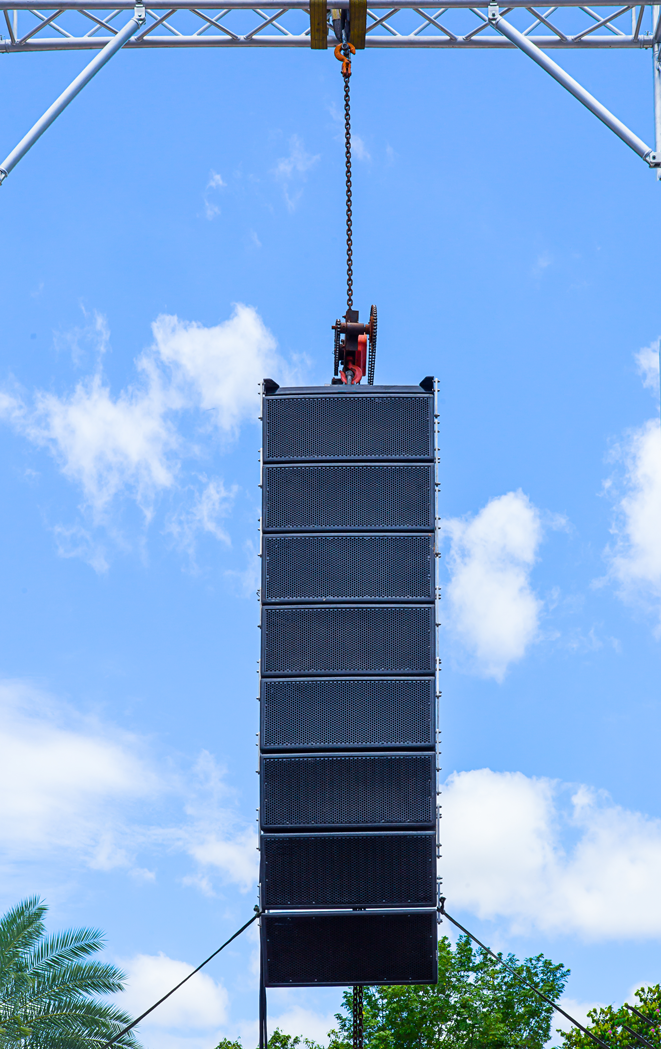 As you can see, you don't have to look any further for live sound rentals. Start browsing your options, and keep in mind, a friendly staff member is only a phone call or email away. If you require any extra guidance during the setup process, contact us! Beamworks is passionate about your musical enjoyment, and our extensive inventory of rentals makes that distinction.
Browse all the available speakers for your project!
What speakers are used in concerts?
The speakers used at shows have changed over the years, and concert audio has significantly improved. Audio engineers use to stack large speakers to enhance their volume output. The results were less desirable, though. The sound created was never unified. The music would be drastically different in various areas around the venue.
Most medium to large shows you these days use a line array (big vertical alignment of speakers) hanging up on either side of the stage. Each of the identical PA speakers in the line array contains high-, medium- and low-frequency drivers (speakers). This presentation isn't for show. There's magic in the arrangement!
This arrangement allows the speakers in the line to work together to make a single, unified sound. When all the frequencies (low, medium, and high) are working together, they collectively fill out the entire audio range, and the music is delivered more effectively.
Browse all the available speakers for your project!