Beamworks has everything you need for your wireless microphone rental. If you need a wireless handheld mic, an earset mic, or a wireless lapel microphone, Beamworks has a vast inventory that will meet all of your needs. The range of wireless microphone rentals we offer allows for flexibility because we not only carry the single, dual, and quad-channel, but we also provide them in several different frequencies. Our expansive inventory makes it easy for us to offer our customers a full line of audio equipment, making sure your wireless mic rental meets your specific requirements.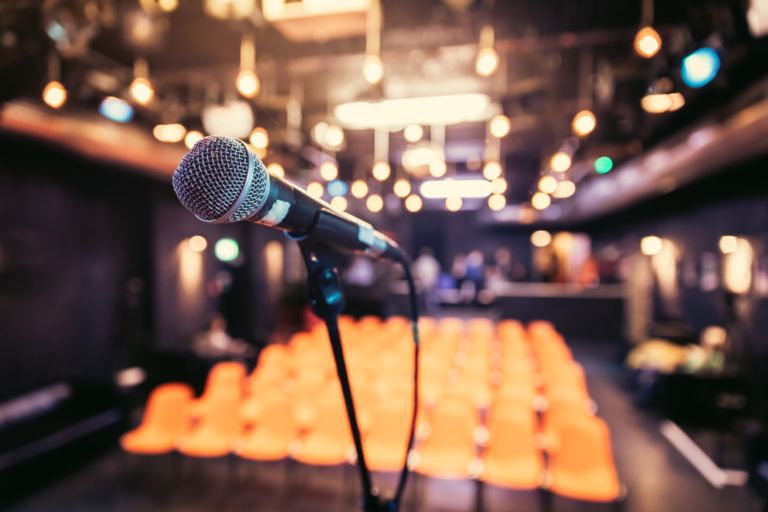 Our wireless mic rental options include; Single-channel mic system, Digital wireless system, Dual-channel wireless mic system, Mic kit, And more!
Browse all the available microphones for your project!
Incredible Sound Quality
From Your Wireless Mic Rental
Working with leading manufacturers in Mics allows us to present you with equipment that we can confidently say will function flawlessly for your rental. When a wireless mic rental is returned to our warehouse, it is thoroughly tested to make sure it will continue to deliver the best sound quality each and every time.
Your Wireless Microphone Rental Also Comes With Free Tech Support
Expecting a wireless microphone rental to produce incredible sound quality, and function at optimal levels is the least you should expect. Beamworks equipment performs at the highest standards, but we go above and beyond to ensure that you benefit from your rental experience with us. We are able to provide 24/7 technical support with highly-trained technicians. Our technical support is available to answer any questions you have and will walk you through the process of resolving any problems you may encounter. Our tech support is available to you for the full duration of your wireless mic rental at no extra fee.
Experience the Beamworks Difference
We have over 30 years in business and are one of the largest providers of audio & visual equipment rentals in the country. Whenever you're in need of a wireless microphone rental, you can depend on us to provide the exceptional service you're looking for, whenever you need it, and be sure that it will always function flawlessly. Our promise to you includes:
– 24-hour delivery within the continental United States
– Competitive sub rental pricing
– The best quality and solutions
Throughout the past three decades of service, we have been committed to always putting our customer first. Putting our customer first has been a leading factor in our success as a company. The combination of our equipment and services are sure to exceed your expectations. When you order your wireless microphone rental from us.
Order Your Wireless Mic Rental from Beamworks
With a vast inventory, we can provide you with audio & visual equipment rentals by the day, week, or month. We have wireless microphone rental solutions on hand and ready to ship out to you as soon as you need it. Request your instant quote online or contact us. Our team of sales representatives are here to assist you, answer your questions, make product suggestions, and ensure that you receive a competitive sub rental price on whatever equipment you need to rent.
Browse all the available microphones for your project!